Quanah Medicine Mounds Gathering - June 10-11, 2022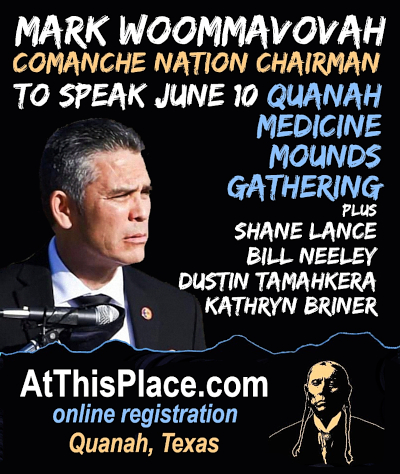 Quanah and MyComancheria Institute invite you to Quanah Fri. June 10 and Sat. June 11 for the Quanah Medicine Mounds Gathering, incorporating a bus tour with cedar ceremony at the Medicine Mounds, a history conference on Friday afternoon, and two benefit events for Save Star House. Don't miss Doug Stone in concert, with Brison Bursey to open! Tickets are on sale now.
The Medicine Mounds, pictured above, are four dolomite mounds southeast of Quanah which are culturally significant to many Comanche, and to the descendants of Quanah Parker.
Join us via bus as we visit the Quanah, Acme & Pacific Railway Depot Museum, see sites in the city of Quanah and the ghost town of Medicine Mound, experience a cedar ceremony with Don Parker at the Medicine Mounds, and hear about the history of railway depots in Quanah. You will have a chance to order lunch at the Medicine Mound Depot Restaurant; lunch not included.
While you're here, enjoy the Quanah Parker Society Powwow at the Quanah Municipal Airport, co-hosted with the Oklahoma City Powwow Club. The Gourd Dance begins at 2 PM on Sat., June 11. Dancers are coming from all over the Southwest.